[:nl]
Of course.. camping!
Chambre d'hôtes, Rental Tents, table d'hôtes, and camping.
At Pont de la Planque you will be staying at a unique spot, where it's important to respect the environment and nature. We offer you a comfortable location in the middle of the beautiful nature of the Tarn Département. Here you can get away from the hustle and bustle of everyday life. You will hear the owls in the night and you look out over the green hills in the first morning sunlight.
If you want you can eat from our vegetable garden, picking strawberries or pick up the eggs for breakfast. We serve meals with local and organic products, from the vegetable garden to your plate. Of course, we serve organic wines from the Gaillac Region. Electricity is generated by solar panels and we separate our waste. At the end of the camping season the camping will be meadow again and the foxes, deer and badgers will take your place.
To rent a tent.
Pont de la Planque rents out 2 tents. These are all storm fixed tents with a fixed ground sheet and a cotton roof. The tents are furnished with comfortable beds, a kitchen, tables and chairs and sun loungers. There is electricity in the tent in the form of solar energy. The tents have a sporty look with large awnings that protect against the sun, and in the evening you can shelter underneath with a book.
Our annex has the name La Ruche and provides for the campers two bathrooms with shower, sink and toilet. There is also a washing machine, a fridge and an opportunity to do the washing-up. For an unexpected cold evening La Ruche is equipped for playing a game or for reading a book in the small library.
Our tents are very spacious (leave out) of approximately 300 square meters per tent. A small brook runs alongside the grounds and there are views of the surrounding hills. In this way, as far as possible, we offer our guests peace, space and privacy.
Camping with your own tent.
Pont de la Planque offers space for campers with their own tent. We do not have fixed tent pitches, there is enough space to find your own place. Close to the brook, or would you prefer the morning sun? It is all possible. There is no electricity in the tent but there is a solar panel for the lamp or the telephone. You can also use the fridge for our guests. In the annex La Ruche are 2 spacious bathrooms with a washing machine and a dishwashing place. La Ruche also offers place to sit inside at an unexpected cold evening. For the long hot summer evenings, guests can use the shared barbecue.
You can also pick the fresh produce from the kitchen garden and eggs for your breakfast. Of course joining the table d'hôtes is also possible. We offer a number of days a week a meal with a vegetarian option.
Best to reserve a place.
Chambre d'hôtes
Onze ruime gastenkamer ligt op de onderste verdieping van het huis en heeft een eigen ingang. De kamer diende vroeger als stal van de kleine boerderij. Sommige elementen van de stal zijn nog zichtbaar, zoals de oude balken en natuurstenen muren. De kamer is volledig gerenoveerd en ingericht op een comfortabel verblijf voor onze gasten. Met een eigen badkamer, een heerlijk bed, een zithoek en wifi, bent u van alle gemakken voorzien. U kunt zelf koffie en thee zetten en genieten op uw eigen terras in de boomgaard.
Klik hier voor beschikbaarheid en het boeken van de gastenkamer.
Table d'hôtes
On a number of days per week, it is possible to have dinner at the Pont de la Planque. The French menu is, as far as possible, made with produce from our own garden. The hostess of Pont de la Planque is a certified chef and cooks with passion a delicious 3-course meal, vegetarian and non-vegetarian. Sometimes we bake pizza or we organise a barbecue.
Every morning we serve breakfast and bake our own bread.
Hiking and cycling and more:
From Pont de la Planque you can make walks and cycling trips in all seasons. Small roads, villages, forests and rugged high plains are in the immediate vicinity. The summers are generally bright and warm. During the walks you can smell the warm soil and the sweet smell of the resins from the pine trees.
Spring and Autumn are also wonderful. In Spring, you can visit beautiful cities such as Montauban, Albi, Cordes Sur Ciel or Toulouse. Not too hot and not too busy!
In autumn we enjoy the "Été Indien", Indian Summer. Hot days in the sun and cool evenings at the campfire. We pick walnuts and search for mushrooms. The apples from the surroundings are crushed into juice and sold on the spot. You can buy roasted chestnuts in Laguepie or sniff the truffles on the market in Villefranche de Rouergue. It is the time of harvest and rest. Experience it together with us!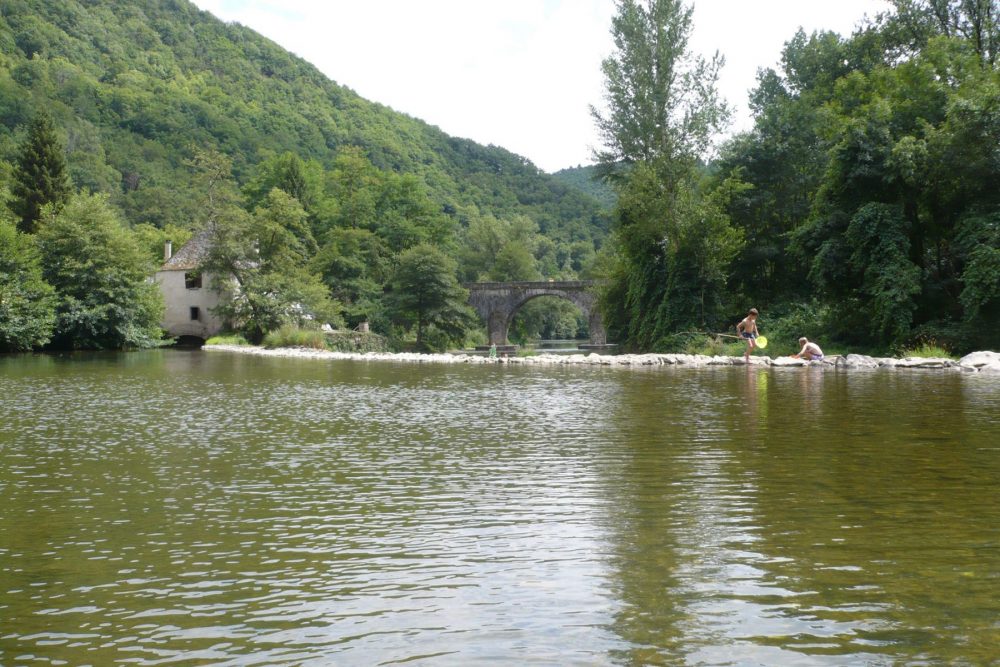 Contact:
Reserveren via onderstaand formulier, of bel ons!
Adres:
Pont de la Planque,
Lagarde Viaur, 81190 Montirat,
la France
+33 (0) 68 20 08 299
+33 (0) 77 17 59 869
GPS: 44°10'13.4″N 2°03'35.6″E
[:]